AdkAction to host road salt conference
Road salt poses a threat to environment and drinking water, says nonprofit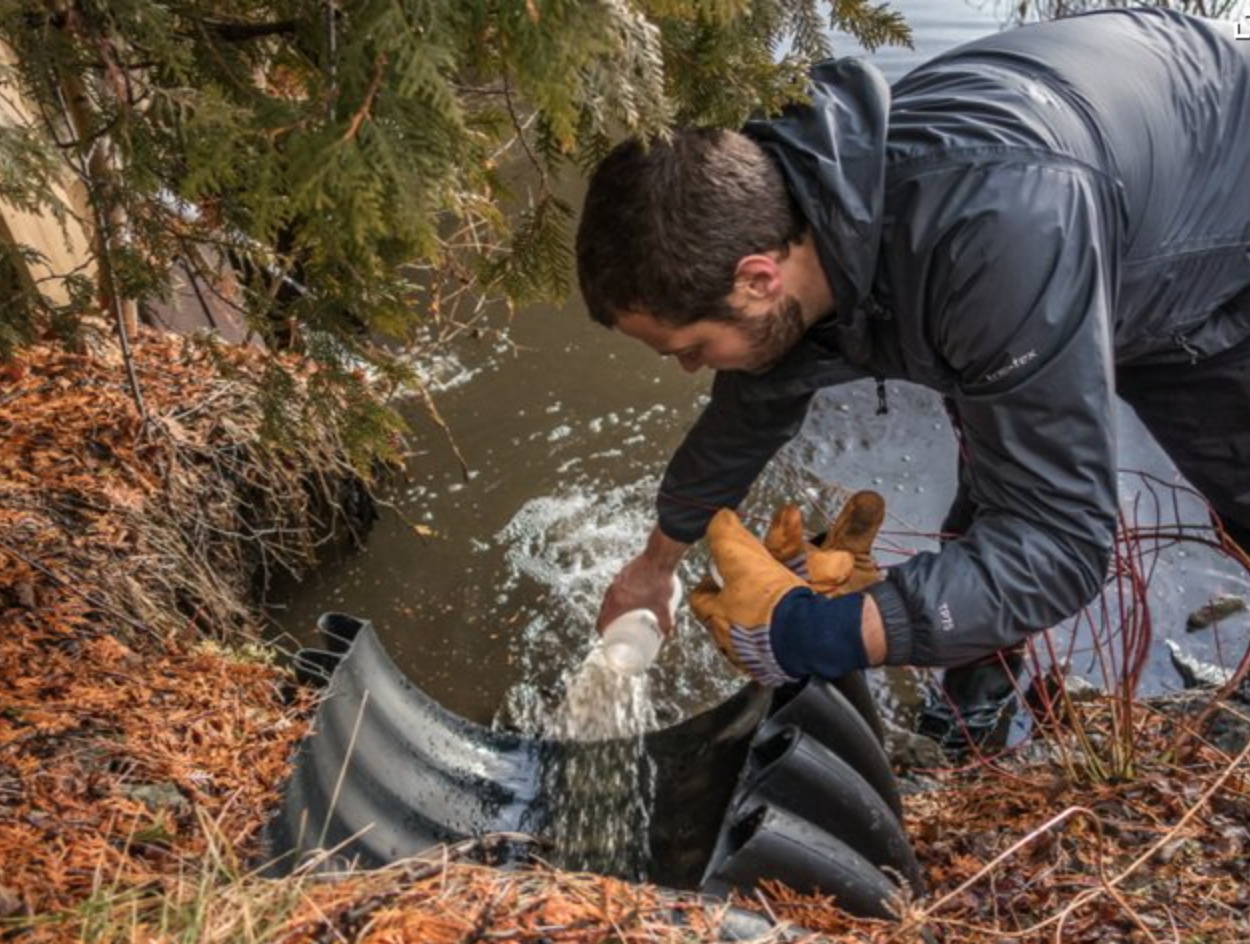 AdkAction has been awarded $20,000 in grant funds to address road salt pollution in the Adirondack Park. The Ausable River Association and Paul Smith's College Adirondack Watershed Institute sampled 21 stormwater discharge points around Mirror Lake in 2015 and 2016. Pictured above is a steward taking samples.
LAKE PLACID — With the last remnants of snow fading from view, a local coalition still has road salt on the brain.
AdkAction, a local nonprofit, has been awarded a $20,000 New York State Pollution Prevention Institute (NYSPP21) Community Grant for efforts to address road salt pollution in the Adirondack Park.
The funds will be used to boost awareness among the state Department of Transportation and local officials into what the group claims are the negative impacts of road salt on ground and surface water.
"This poses a threat to aquatic and terrestrial ecosystems, water quality and the safety of drinking water," said AdkAction in a statement.
SIX MILLION TONS
New York State is the largest user of road salt in North America, and 6 million tons of salt have been deposited on Adirondack roads over the past 35 years, according to the Paul Smith's College Adirondack Watershed Institute (AWI).
Adirondack soils are thin and porous, which means most of this salt ends up in ground and surface water.
Recent studies spearheaded by AWI have documented a connection between sodium chlorate concentrations in local bodies of water and the density of state roads in the watershed.
In fact, the group's research has revealed some local watersheds have hundreds of times the salinity levels than their backcountry counterparts.
Green groups, including the Adirondack Council, have taken notice and have said some stakeholders consider salt usage the biggest threat to the local environment since acid rain.
Main Street in Lake Placid skirts right around the edge of Mirror Lake.
Chief areas of concern include Mirror Lake in Lake Placid, where sections of Main Street, a state-maintained road, drain directly into the lake.
A report by the Ausable River Association determined there are "significant long-term trends" of increasing sodium and chloride buildup in the lake — especially during the winter and spring.
"Concentrations are 9- and 11-times higher than the early 1970s," the report revealed, "and 52- and 239-times higher than Adirondack lakes not impacted by road salt, respectively."
High concentrations of phosphorus, chloride and suspended materials have been found at drain locations.
And since the lake is spring-fed, the salt doesn't get flushed out.
The Ausable River, too, is impacted.
Essex County Board of Supervisors Chairman Randy Preston called the research "eye-opening."
"The Ausable is 58 times higher in chloride than streams not affected by road salt," said Preston, who stressed the importance of the reports.
"We understand we need to have science to back up what we're talking about."
Removal is impractical, said the coalition. But the 190,000 tons of road salt applied to Adirondack roadways each year can be curbed.
"Preventing further pollution is the only way forward, and that's why we are thrilled to receive this pollution prevention funding from NYSPP2I," said AdkAction Executive Director Brittany Christenson in a statement.
WELL-TESTING ONGOING
Road salt also can leach into groundwater, like in Beekmantown in Clinton County, where the town is working with the DEC on a remediation plan after residents have complained of contaminated water.
While the taste can be inconvenient, there's also more serious health concerns, including leaching from heavy metals and the impact on those following low-salt diets.
"People on low-sodium diets can have their conditions exasperated by salt from their drinking water," Christenson said.
To pinpoint the pervasiveness of the problem, AdkAction is in the process of taking samples from 400 wells located throughout the Adirondack Park.
"The majority of the private wells are located in the southern part of the (Adirondack) Park, but we're getting a good sample of wells all around the Park," Christenson said.
Preston said the results are expected in August.
"I think you're well aware drinking water is a hot topic," he said. "The next step would be to reach out to top level government officials and go from there."
CONFERENCE SLATED
AdkAction said they will flag "practical and easy-to-implement solutions" to help municipal and county highway departments reduce dependence on road salt, as well as ask municipalities to sign a "Best Practices for Sustainable Salt Use" memorandum of understanding.
At present, all state roads rely on salt to melt ice, while towns and counties — including Essex — rely on a blend cut with sand.
AdkAction has said solutions to curb usage can be found without compromising public safety, like reducing waste when distributing the mixture and using advanced technology to apply it more selectively.
The group will also co-host an Adirondack-wide Salt Summit in Ticonderoga on Oct. 5 in partnership with The FUND for Lake George.
The event will provide a forum for all stakeholders to "hear from watershed researchers, watch industry professionals perform equipment demonstrations, and learn from case studies of areas that have significantly reduced their dependence on road salt, as well as to recognize those municipalities who sign the MOU in an awards ceremony at the summit."
It is possible to curb the salt usage, said the group: Past efforts undertaken with the state DOT to establish four road salt testing areas have achieved a 30 percent reduction in road salt application per pass in the test areas.
Lake Placid has been awarded funding to consolidate the stormwater collection along Main Street and divert it inland, away from the lake.
The New York State Pollution Prevention Institute is sponsored by the DEC through the Environmental Protection Fund and led by the Rochester Institute of Technology's Golisano Institute for Sustainability.
Some recent news from RPI:
 ——————
More salt, sand than expected in Mirror Lake
Testers surprised by findings
July 19, 2016
Adirondack Daily Enterprise
, 
LAKE PLACID – The AuSable River Association was surprised to find high concentrations of road salt and suspended solids such as sand in unexpected locations along the southeast shore of Mirror Lake, which Mayor Craig Randall has described as the "crown jewel" of this village.
Brendan Wiltse, the association's science and stewardship director, presented the winter 2016 stormwater sampling report to the Lake Placid village board Monday and the North Elba Town Council last week. With help from the Paul Smith's College Adirondack Watershed Institute, 21 stormwater discharge points and the lake's inlet and outlet were tested on Feb. 25 and March 9. The testing found higher concentrations of salt than anticipated in the stormwater drains on the southeast portion of the lake. More than a dozen of the locations tested were along the southeast shore.
"The highest reading we had for chloride was 955 milligrams per liter, and you compare that to what's flowing out of the inlet, which is closer to 1 milligram per liter. So there is a lot more salt coming out of the storm drains than there is naturally," Wiltse said Monday.
The southeast lake location was a surprise since, "Our initial thought was that the ones along Main Street would have higher concentrations," he said.
Wiltse said the high chloride concentration is attributed mainly to road salt. The suspended solids include such things as silt and sand.
Mirror Lake has one of the highest chloride concentrations for a lake tested in the Adirondack Park, consistently in the 95th to 97th percentile, he added.
Adirondack Park-wide, he said, lakes without development growth around their shores find less than 1 milligram per liter of chloride concentration. He said the average in the park is 24, and Mirror Lake is around 40, with some of bottom water samples as high as 70.
"That's because when it runs off, it's basically salt water; it's heavier than the fresh water and goes right to the bottom of the lake," Wiltse said. "So that's one thing we are keeping our eye on: how that is remixing with the rest of the lake, and is that impacting how the lake turns over every spring and every fall?"
When the village board approved borrowing up to $10.5 million for Main Street sewer, stormwater and water projects in March, it also agreed to design a Main Street Green Innovation Grant Project, which includes plans to divert the stormwater lines that currently dump into Mirror Lake. The approved resolution requires regulatory agency approval and permits from the state Department of Environmental Conservation, Department of Transportation, Department of Heath and Office of Parks, Recreation and Historic Preservation.
"We do think that when you combine all of those together, that there is a good bit of flow coming out of those 14 (stormwater drains) along that (southeast) side," Wiltse said. Diverting that from the lake is "going to be huge for seeing the chloride concentration starting to go down rather than up."
Wiltse also expressed interest in testing a new de-icer the village plans to use next winter, Cargill's ClearLane. It's a sodium chloride-based de-icer claimed to be anti-corrosive and better for the environment than traditional road salt. In March, village Department of Public Works Superintendent Brad Hathaway said the state uses ClearLane, mostly around lakes and streams in a number of towns, including the Lake George area. Hathaway plans to make ClearLane 25 percent of the village's salt purchase for next year. The de-icer the village tested out this past winter, Street Treat, did not work as well as expected, and the village will not use it in the future.
As for suspended solids, the Feb. 25 testing showed the Main Street side of the lake, where hydro-dynamic separating units are in place, had milligram-per-liter numbers not nearly as high as the southeast shore. But the March 9 readings told a different story, as total suspended solid numbers spiked up.
"Because we had so many melt events throughout the winter, we don't know what the cause of that was," Wiltse said.
Randall asked for a reference for an ideal total suspended solid number, and Wiltse pointed to the natural inlet at the northeast corner of the lake, which reported a reading of 0 to 50 milligrams per liter on March 9, compared to some readings of more than 1,200 milligrams per liter toward the north part of Main Street and on the south shore.
Mirror Lake Watershed Association President Bill Billerman, in attendance at the meeting, asked Randall about the scheduled cleanings of the vortex units. Randall said they are cleaned periodically.
Wiltse also reported higher-than-expected phosphorous numbers for the lake, but said the phosphorous is currently bound to the lake's sand and sediment, which helps prevent algae blooms.
"If you look on the second day (of testing), (there were) 6,200 micrograms per liter (of phosphorous), and the ambient concentration of Mirror Lake is 4 – so over 1,000 times higher," Wiltse said. "We think this might be coming from the sand that's put down.
"Sand has a lot of bound inorganic phosphorous with it, so getting that diverted away is going to be good," he added. "And because it's bound so tightly to the sand and we are not seeing algae blooms in Mirror Lake, we think a lot of that is staying bound to the sand."
Wiltse said the association is compiling all data on Mirror Lake dating back to the 1970s, to combine with the past two years of "intense" monitoring. For the first time this summer, the bottom portions of the lake will be tested, and in the future, the association would like to measure discharge of stormwater locations as well as concentration.
________________________________
This article was printed with permission from the Adirondack Enterprise and we thank the Enterprise for this important article.
MLWS